RECIPE | RICOTTA + SWEET POTATO HOTCAKES THREE WAYS
So we did it again.

If you're not familiar with what I may be talking about, Rebecca and I have been getting together on Mondays to bake breakfast/brunch and take photos. It's become such an exciting morning ritual for me each week... getting the playlist ready for the hour-drive to Purcellville, organizing what to bring, dreaming up how we want the shoot to look. This one is definitely different... probably for both of us.
We took a different turn this time and experimented with color and lighting by incorporating a dark wall to highlight the foods we were making. What a difference a bold, solid wall can make! Each one of these shoots we do yields a new learning experience for us and as if the friendship and company weren't enough, we gather so much new information in the process.
Rebecca thought up the idea to make Ricotta and Sweet Potato hotcakes. As soon as she said hotcakes, I got really excited. Being the wife of a certified pancake lover, an opportunity to enjoy a decent flapjack is one I can't pass up... and I've certainly learned through these few shoots with Rebecca that she is no kitchen novice. I knew this would be good. I brought along my intern, Rowan, who proved to be such a help yesterday (thank you!).
We decided to shake things up and serve the hotcakes three different ways. You can find the recipe for the Ricotta and Sweet Potato hotcakes on Rebecca's blog today, so I'll introduce you to the delicious three ways we prepared them.
HONEY CINNAMON BUTTER
COCONUT WHIPPED CREAM WITH BLACKBERRIES
MAPLE SYRUP AND BUTTER WITH YELLOW PLUMS
HONEY BUTTER WITH CINNAMON
- 1/2 c. butter (we used salted) at room temperature
- 1/2 tsp. cinnamon
- 2 tsp raw honey

Whip ingredients together with hand mixer in medium sized bowl. Top hotcakes with the butter and enjoy the melty goodness.
COCONUT WHIPPED CREAM WITH BLACKBERRIES

- 1 can coconut milk (we recommend no sugar added)
- 1/8 c. raw honey
- 1 pint blackberries

Turn can of coconut milk upside down and open bottom with can opener. Drain out liquid (you can save this for another recipe!) and scoop solids into medium bowl. Add raw honey to milk solids and while together using a hand mixer. Spoon onto hotcakes and top with blackberries. This is a tasty option for dairy-free whipped cream!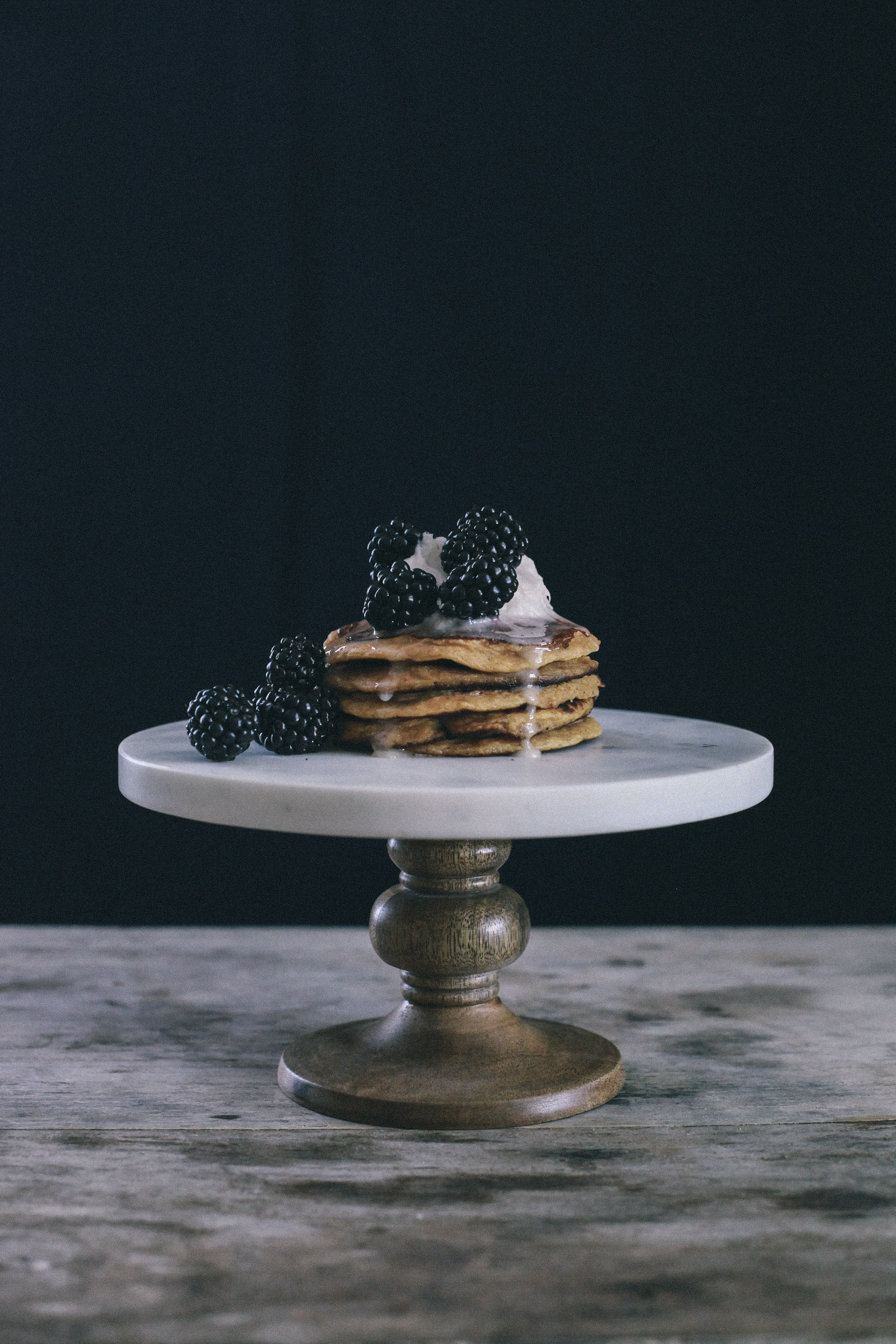 MAPLE SYRUP WITH SALTED BUTTER AND YELLOW PLUMS

- As listed above. :)

Place desired amount of butter on hotcakes. Slice up some yellow plums, place atop the stack, and drizzle with syrup. Enjoy!
Join us next week for more breakfast recipes!