RECIPE | CELERY ROOT + SWEET POTATO HASH WITH GERMAN APPLE PANCAKE
Yes, it totally tastes as good as it sounds.
I've never cooked with Celery Root before and I never thought to until Christine of Huckle & Goose passed along this hash recipe to Rebecca and I. It only took a glance before we knew this recipe was beyond perfect for our Monday Breakfast Series. Huckle & Goose offers seasonal meal planning subscriptions through their web app, which... how have I not been using this my whole life? Being that Rebecca and I make breakfast together each week, H&G's weekly breakfast recipes seem perfect for us. They release savory options and sweet options and that's exactly what I need in my life... because who can really predict when they'll wake up with a sweet tooth?
Celery Root (or more commonly known as Celeriac) was surprisingly easy to cook with. It looks like a giant bulb with green stems. Most people overlook this giant beast of a root at the grocery store because they have no idea what to do with it. It's not the prettiest thing but it's super delicious. You can shave it, mash it, and mince it for all sorts of versatile recipes. If you could imagine a hybrid of a potato and celery, this is it. Who doesn't like starchy tasting things?
Rebecca uses the Huckle & Goose app for a lot of her cooking and meal planning so when we decided to do the celery root hash, she anxiously planned to make one of her favorite Huckle recipes to accompany it: German Apple Pancake. The pancake paired amazingly with the celery root hash and when are pancakes not a good idea? Never ever. Rebecca will have the recipe for the delicious German Apple Pancake on her blog today!
The celery root hash is a convenient hash alternative for those on specific diets. It's lactose, grain, and dairy free! Which also means: paleo friendly! Hip-hip. So, who's hungry?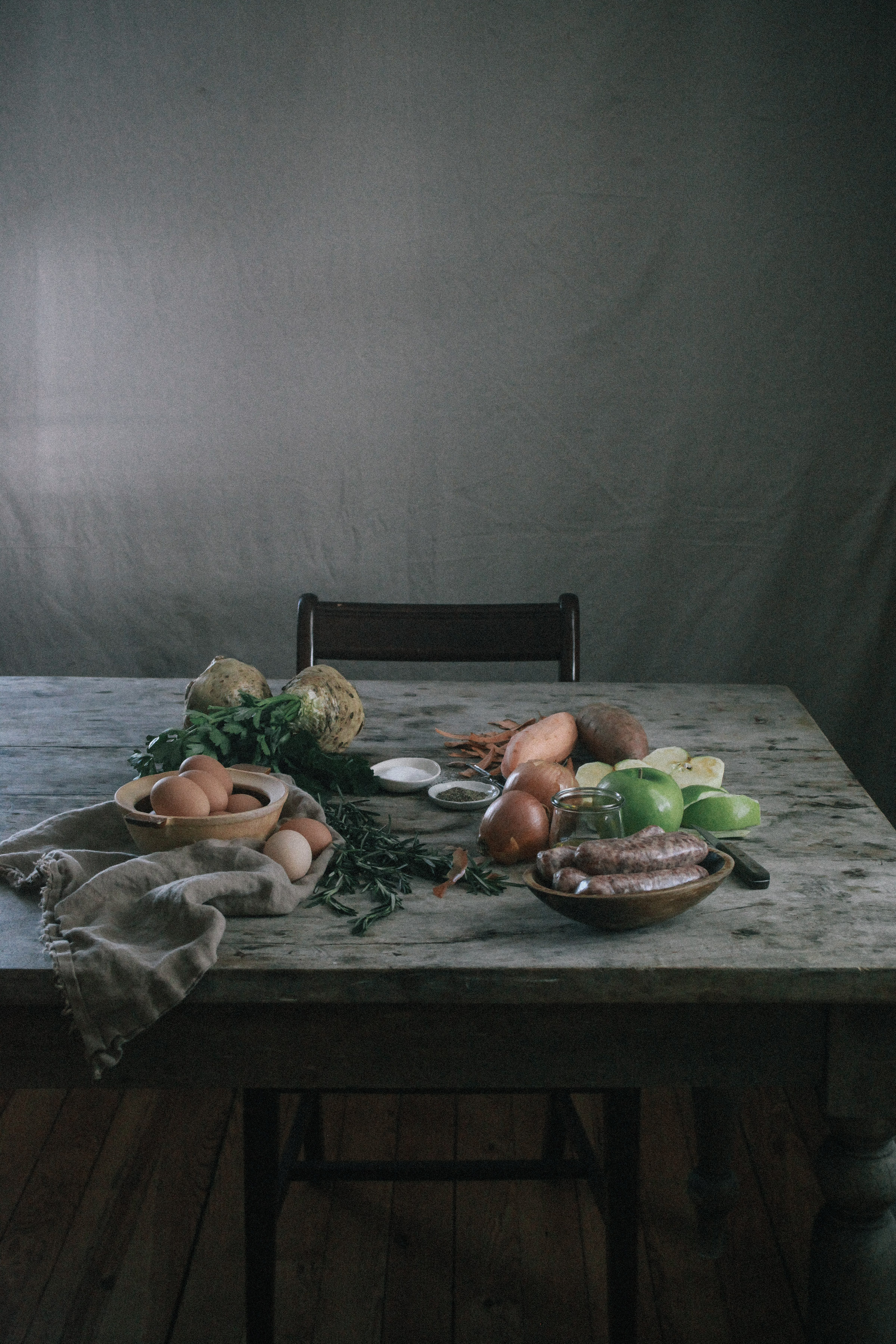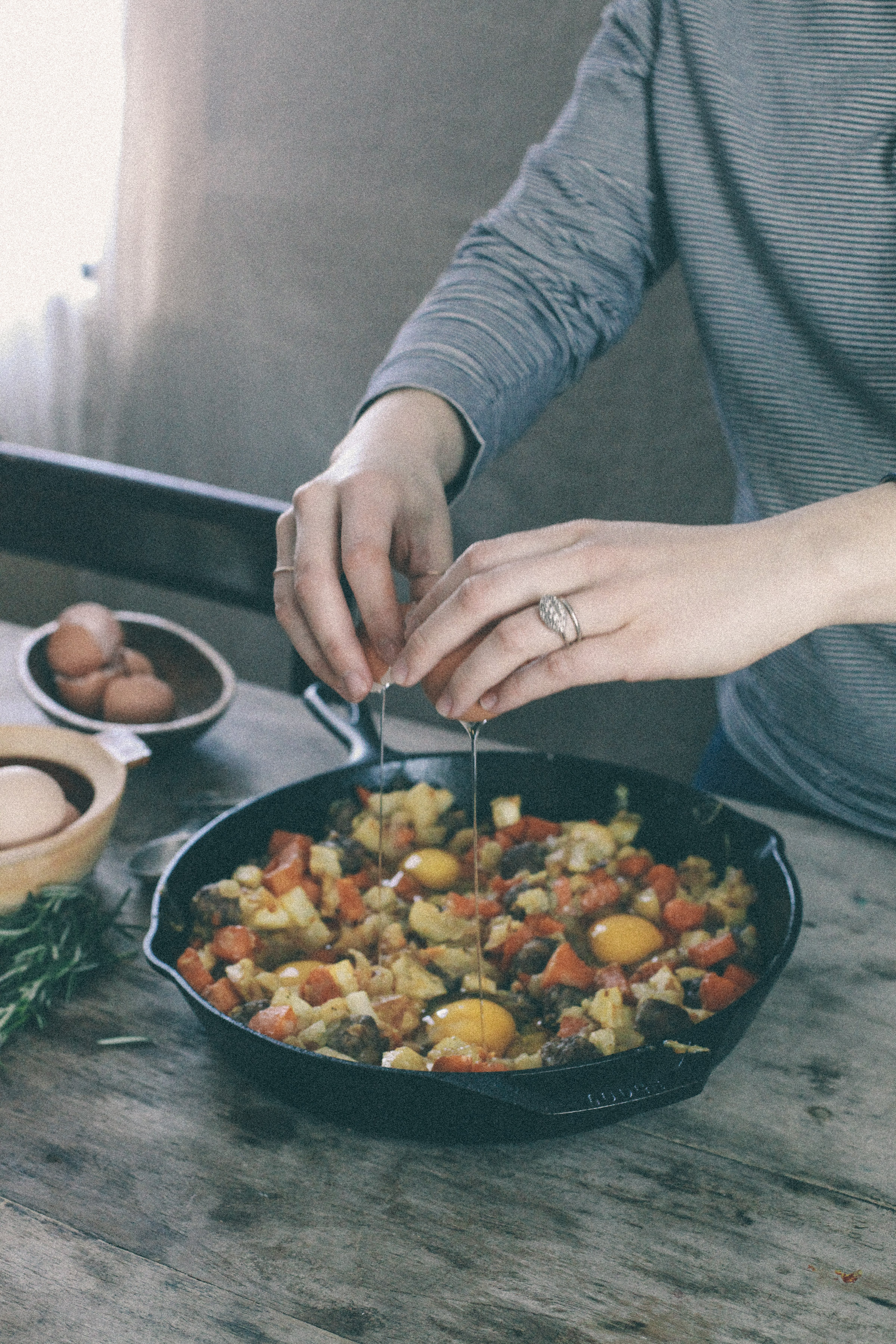 CELERY ROOT AND SWEET POTATO HASH WITH EGGS

Recipe by Huckle & Goose
prep time 10 min / cook time 30 min

You will need:
1 celery root, medium, peeled
1 sweet potato, large, peeled
1 yellow onion, large, peeled
1 tart apple, peeled
2 farmer's market sausages
1 tbsp fresh rosemary, minced
4 large eggs (or up to 6)
-- olive oil
-- sea salt
-- black pepper

Directions:
1: Preheat oven to 375 degrees fahrenheit.
2: Chop celery root and sweet potato into small 1/3" cubes. Throw them into a medium bowl, pour in a glug of olive oil, generously salt and pepper, and mix well with your hands. Roast on a baking sheet for about 20 minutes until soft and golden.
3: Meanwhile, set a 12" oven-safe skillet over medium heat and pour in a bit of olive oil. Dice the onion and add it to the hot pan, stirring every couple minutes.
4: Chop the apple into small cubes, just like the vegetables. Cut up the sausage into approximately the same size pieces. Add them to the pan and stir until the sausage bits are almost fully cooked through.

5: At this point, the veggies should be about done roasting. Remove them from the oven (but leave the oven on), add to your skillet, combining everything well and adding the minced rosemary.
6: Make 4 wells in the hash and crack in the eggs. Transfer skillet to the oven for 8-10 minutes or until whites are set. Sprinkle a pinch of salt and pepper over the top of the eggs. Serve right away.